implementing and benefiting from using these next gen printers.
Companies are benefiting in that they are able to develop new products quicker and of higher quality than they could before. It is now safe to say that 3D printing has entered the mainstream and rapidly increasing in popularity.
Let's take a look at three industry giants who have successfully executed 3D printing into their business module. They are also benefiting greatly from embracing this technology.
Airline Giant Boeing
Boeing was one of the first companies to use and implement three-dimensional print technology. They have created easily over 25,000 3D printed plane parts for military and commercial use. Using a number of Stratasys 3d printer equipment to create the full interior of one of their planes.
Boeing is in support of the additive manufacturing programs running at Nottingham and Sheffield University in the UK. These two Universities are researching and studying 3d printing technology and its possible use in the manufacturing industry.
Sports Giant Nike
Nike welcomed a spike in sales and has put it down to the fact they use 3D printing. Using the spectacle of the 2014 Super Bowl as a stage to promote and show off their 3d printed Nike Vapour Laser Talon. With the success of this project it has been said that Nike is researching more ways of creating and manufacturing their products using this print technology.
Car Manufacturer Ford
Automobile manufacturing giant Ford has been using 3d printing for over 30 years and has recently completed printing its 500,000th part! The completed part was Ford Mustang engine cover, by using 3d printing, Ford has decreased its spending on part production and cut production time by more than half the time it used to take using traditional manufacturing.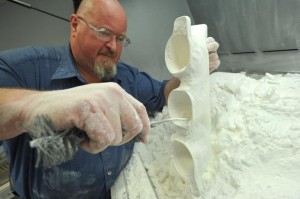 In summary, these three are a small example of industry giants using this advanced technology. Medical professionals are using it to improve surgery procedures, artists are using it to design unique sculptures, and this is only the beginning.