Exactech, Inc., is one of the nation's top producers of artificial hip, knee and shoulder joints. With annual sales reaching $250 million dollars, Exactech is also one of the largest orthopedic joint supplies. The company utilizes 3D printing technology, also known as additive manufacturing, to create products with better functionality than products made with traditional machining. According to Exactech Engineering manager and Chairman of the Advanced Manufacturing Council of the Gainesville (FL) Chamber of Commerce, Ryan Loftus, "Additive manufacturing is a big strategy for us…[additive manufacturing] is perfect for us because of our low-volume/high-mix product line." Loftus also claims that Exactech is the first to use this technology to produce metal large-joint components.
Exactech has multiple 3D printing machines, using three for laser sintering of metal powders and two for printing plastic prototypes. Their most useful of these machines, according to Loftus, is the Stratasys Objet 3D printer. Capable of producing parts with accuracy ranging from .003-.005 inches in an extremely cost-effective manner, Loftus describes this printer as a "workhorse" explaining that the machine "runs everyday and overnight." Exactech not only uses their Objet 3D printer to produce plastic prototypes, but is also able to produce soft jaws with it. The printer uses inkjet-style depositions of UV-curable acrylate polymers.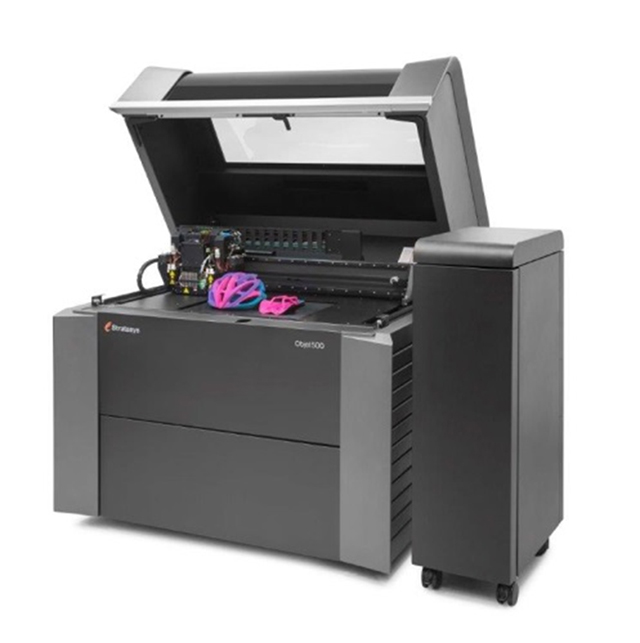 Stratasys' Objet500 Connex 3D printer
Exactech has also recently acquired a MakerBot 3D printer which uses an additive manufacturing technology known as fused deposition modeling (FDM) to extrude thermoplastic filaments. Although the machine isn't as accurate as the Objet 3D printer, it allows extremely cheap production costs for small parts, often less than a dollar. Exactech primarily uses it to create PLA prototypes of surgical devices. Fortus, however, believes there is "large opportunity" available to cut surgical instrument costs by simply 3D printing them. Although the possibility of this remains unclear due to durability of the product in the sterilization cycle.