Stratasys has done it again. The 3D printing manufacturing giant has introduced the world's first multi-material that prints solid objects in full color on the Objet500 Connex3.
The purpose of this color 3D printer is to radically change and improve prototyping and concept engineering from its current level to a higher level of efficiency. The Objet500 Connex3 was revealed at the beginning of the year at Solidworks World held in San Diego, California.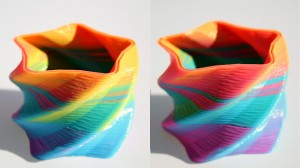 This 3D printer uses colors like yellow, magenta, and cyan, which are the known colors associated and used in traditional printers. The Objet500 Connex3 is the only printer available just now capable of color 3D printing. This means that a user can design a pair of sunglasses and from the initial design the user can print of the frame in color, and it includes the tint of the shades needed to protect the eyes.
Stratasys continues to produce high quality products, including the Objet500 Connex3. Those that have had the chance to use it are amazed by its capabilities. It is quickly taking over and transforming the manufacturing world.
Three-dimensional printing has proven its effectiveness, raising the standard of consumer product quality. From unique diplomatic gifts, to healthcare and education, 3D printing is play a major part in innovative ideas and advancements.
The boundaries have already been pushed to the limits, and now most of those limits are broken. The technology surpassed expectations, and still changes constantly for the better.