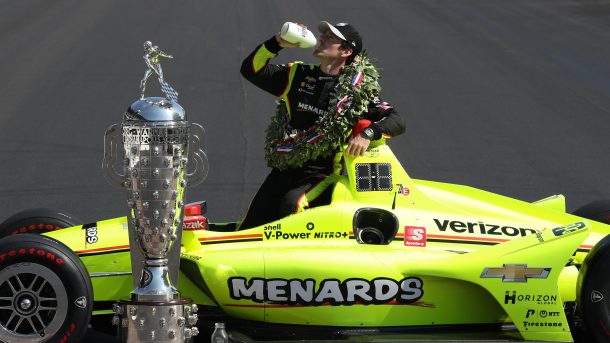 When NASCAR holds one of its final races of the season at Texas Motor Speedway, multiple cars will feature components that were made by a 3D printer. The same case at next year's America's Cup., which will see the debut of the fastest-ever catamaran. 3D printed parts are making their way onto the fields of play.
Earlier this month a meeting has was held at the Dallara IndyCar Factory. Guest in attendance included people working on American Magic, the America's Cup racing boat being built by the New York Yacht Club, and from NASCAR stalwarts Penske and Joe Gibbs Racing. The day's focus: a discussion about how 3D printing can expand beyond a tool for prototyping and into end-products themselves. Companies outside of sports were also in attendance, including Boom Aerospace, which is building a Mach-2.2 supersonic airliner.
While 3D printing is still a small part of these industries, it has advanced enough to the point where major aerospace and racing companies are incorporating it into their regular manufacturing flow. One of the benefits of 3D printing these companies say is the ability to create custom parts, which allows them to push the boundaries of what's structurally feasible.
By being able to print critical parts and components on site rather than purchasing them from a supplier, we can create custom parts, increase our speed from engineering to manufacturing, and focus on building the aircraft and fulfilling our vision," Mike Jagemann, head of XB-1 production at Boom, said in a statement announcing the deal this summer.
Boom 3D-printed more than 200 parts for tools, prototypes, and test benches. In NASCAR, 2019 Indy 500 winner Simon Pagenaud of Team Penske featured more than 40 printed parts. In addition to rapid prototyping and customization, 3D-printed parts are also desired because they provide industrial strength with potentially lighter materials.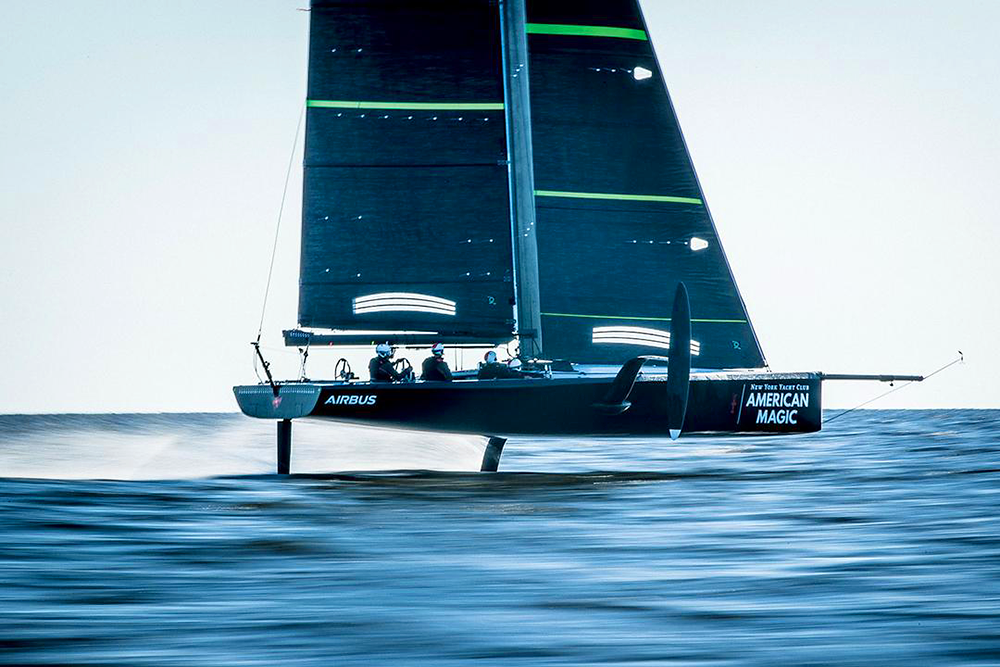 A large percentage of the AC75 catamarans are being built with carbon fiber components, including the two 1,000 lbs hydrofoils that lift the boat out of the water, giving the appearance of it skating above the surface when it reaches its max speed.  While hydrofoils aren't currently being printed, parts such as sensor brackets and fixtures are being created with lattice structures for the 2020 America's Cup. There's even more opportunity for 3D printing parts with the continued adoption of 3D-printed nylon carbon fiber to expand the number of printed parts over time as boats get faster and lighter.
 "We prototype a little bit, but a large amount of what we print with our Stratasys machine goes on the boat in use-case situations. We're printing brackets, fixtures for sensors on board, aerodynamic fairings and hydrodynamic components. These are real parts that go on the boat the day after they're printed pretty much. It gives us a huge amount of design flexibility so we're not constrained to design things in specific geometries. We can design any shape or geometry we want, which allows a lot of design that would not be possible with prior machine techniques." says Robyn Lesh, the design team engineer at American Magic who graduated from MIT with a degree in mechanical and ocean engineering, is in charge of the weight of everything on the American Magic boat.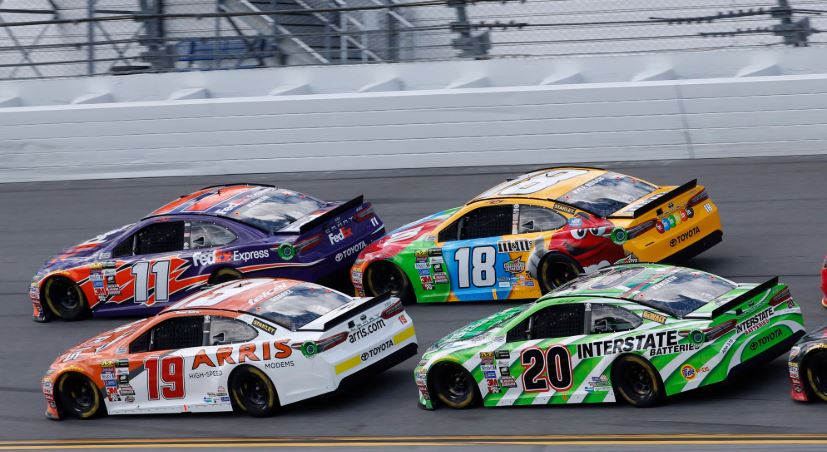 Joe Gibbs Racing uses 3D printing for a wide array of car components, though the company still relies on CNC manufacturing to make parts and pieces. CNC machining is subtractive, it carves out an object from an existing block of material. This way is still considered faster and more affordable but lacks the benefits of less weight in some instances and the customization of 3D printing.
We use 3D printing for three things: prototyping, molds for mocking up carbon fiber pieces and fixtures, and then we do have multiple pieces that we take right out of the machine and put directly into the car," says Mark Bringle, a 24-year veteran of the company who oversees technical marketing and partnerships. "We 3D print the track bar gauge that goes on the dash—the actual housing that holds the electronics. There's probably about 25 pieces that are put in the car that come off that machine."
An issue that still needs to be worked on is the accessibility to these technologies. Most companies using 3D printing are major manufacturing companies that are willing to spend and invest in 3D printing. Joe Gibs Racking already manufactures in-house more than 90%- more than 2,000 parts and pieces.
"We have a huge manufacturing plant to make parts and pieces for cars and motorcycles, and the printer returns valuable machining time," says Bringle. "A lot of the parts that go into the car are complex shape pieces. So by growing them on the machine verus going through traditional manufacturing, we save a lot of money and it really is a whole lot faster getting them into the car."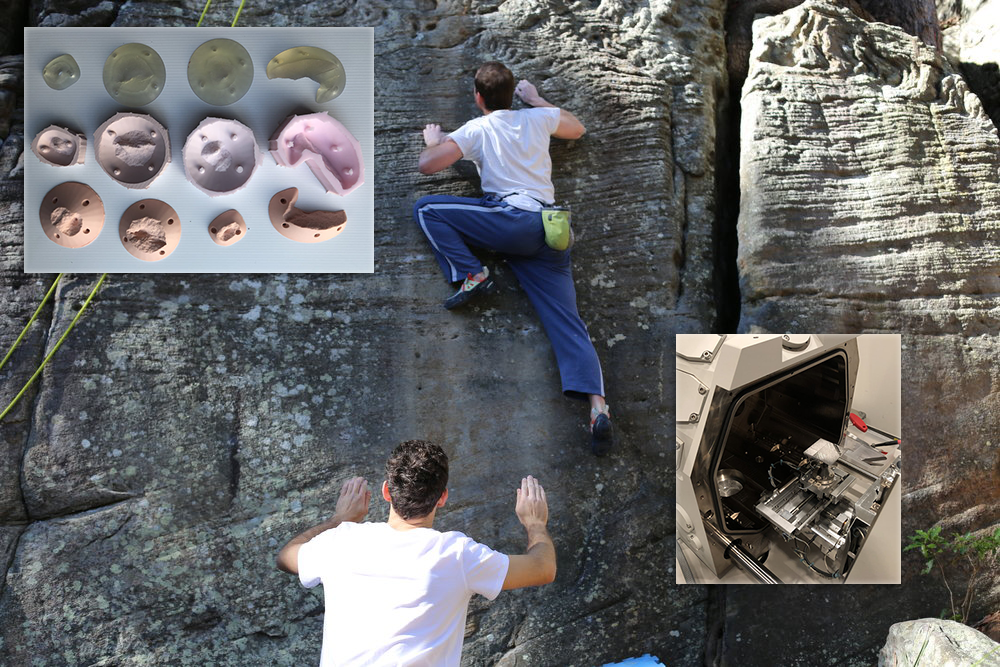 But the cost of 3D printing can be prohibitive to smaller companies. Twin Climbs, a company located in Australia is building lifelike rock faces for the indoor climbing industry. One of its goals is to bring the outdoors to indoor gyms by scanning rock walls and recreating them in a lab.
Twin Climbs was one of the finalists in the Sydney-based 3D Hubs Student Grant 2019 Competition for product design, but co-founder and mechanical engineer Nick Gilmore says they've shied away from 3D printing in favor of CNC because of scalability and affordability. They may still use 3D printing to make molds, which will enable engineers to get "a feel" for the textures of new climbing hold designs before they're sent to the CNC machine, but Gilmore says they're "still refining" their manufacturing pipelines and that includes balancing elements of both 3D printing and CNC.
https://www.sporttechie.com/nascar-americas-cup-3D-printing-sports-manufacturing-stratasys-twin-climbs
We Offer Affordable 3D Printing.