Customer CASE Study: Geometrix Engineering
Peripheral Illumination Walker Light 
Trips and falls result in broken hips, broken hands, wrists, & arms, head injuries, and even death.  In many cases the death is an indirect result of of a blood clot or stroke following hip replacement surgery (or other invasive corrective surgery).  After surgery, the patients experience a great deal of pain, extensive physical therapy, and huge medical bills that severely impact the Medicare and Medicaid healthcare systems.
This problem directly affects one of my family members as my wife's Uncle Norman has Parkinson's disease.  He has tripped over his walker, his slippers, his own feet, and even just thin air (as he maybe anticipates tripping and falling) so many times that Palm Beach Fire Rescue knows him by first and last name.  About 95% of these falls occur at night with little or no light.  Thank God that he has not broken anything yet…probably the plush shag carpeting in his senior apartment that cushions his fall.
How can we improve Norman's life and the lives of millions of other people with this problem?  That is a question I ask myself about many things in our physical universe, and I try to solve these problems for both my clients and myself.
What about light?
What if we illuminate the periphery of where a disabled or elderly person walks with their mobility aid?  What if we automate the lighting so that they don't even have to think about it?  We don't want to complicate their lives…we want to simplify them.  What if all they have to do is reach for their walker or clap their hands?
Necessity is the Mother of Invention.
Create a device that easily and universally attaches to a walker.  Throw in several high brightness LED's, an accelerometer, a microphone, an ambient light sensor, a Li-ion rechargeable battery, and a USB connector for simple charging.  Design the device so that its is incredibly small and tremendously bright.  Now you have a Peripheral Illumination Walker Light.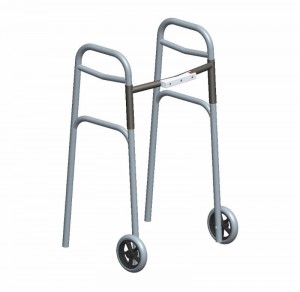 Headlight Design on Walker 
This device is NOT a flashlight.  It is a high-tech passive lighting system that goes where the individual goes.  It automatically turns on when they need the light and turns off when they don't.  It has a standby time of several days, and provides a sense of senior security when they have to walk from a car to a restaurant after dark, or even when they have to use the bathroom at 3AM.  It weighs just a few ounces and does not adversely affect the  user's ability to navigate with the walker or the fold-abililty of the walker (so that it can be easily stowed away in the trunk of a car).
What if the user trips over his own walker?  Then an audible alarm/siren will beep to alert their spouse or caregiver.  The next generation of this product will use an integrated GSM radio for the purpose of remote monitoring (Mr. Jones….This is AAA monitoring. We just received a signal that your walker has tipped over.  Are you okay?).  We are adapting this technology to canes and wheelchairs to provide peripheral lighting for these various mobility aids as well.
Geometrix Engineering has designed this product.  We have completed three iterations of the design with each iteration yielding a greatly improved design, size, shape, and lighting configuration.  We are extremely close to the final production design at this time as we have taken the proof of concept electronics to a micro-electronic production phase.  The mechanical design and software are both being tweaked and we should have our first 5 units available for real world testing within the next 2-3 weeks.
See the photos below showing the device and the PCB's (printed circuit boards).  The housing was 3D Printed on our Stratasys uPrint 3D Printer.  The PCB's are fabricated in one piece with all of the components pick-and-placed on a single board.  The one PCB is then scored and split (much the same way as a tile cutter) into two individual PCB's.  One PCB is mounted vertically for the forward-facing LED's, and the other PCB is mounted horizontally for the downward-facing LED's.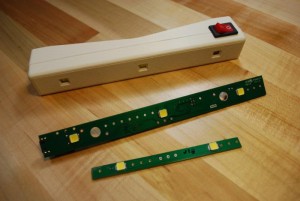 Circuit Boards & 3D Printed Housing
We have started an Indiegogo crowd funding campaign for the Peripheral Illumination Walker Light in order to generate the capital required for injection molding tooling, plastic enclosures, electronics, packaging, and shipping for the first 5000 units.
Copyright © 2015 Geometrix Engineering, Inc., All rights reserved.
Using science and creativity to solve problems.
Our contact info is:
website:  www.geometrixeng.com
e-mail: info@geometrixeng.com
phone:  954-649-9399
address: 201 N.13th Avenue, Hollywood, FL  33019