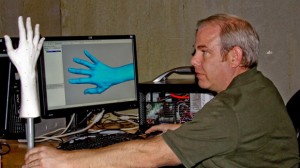 This article was originally made available at:  http://online.fullsail.edu/news/grad-news/2010-04-13-fred-stuhrberg-grad-profile 
Nearly two decades after groundbreaking films like Terminator 2 and Jurassic Park expanded the possibilities of computer generated imagery, the visual effects industry has achieved a level of realism that has blurred the line between what is real and artificial. The latest effects work is a seamless blend of traditional and digital filmmaking, and the process often starts with artists like Fred Stuhrberg, a 1995 Full Sail graduate who has built a successful career as a 3D Scanning Engineer in Hollywood.
This role comes early in the visual effects pipeline, and is responsible for making digital scans of physical characters, objects, and environments that are used for effects shots throughout a film. Since specializing in the field, Fred has had the unique opportunity to work with everything from high-end vehicles to, no joke, a life size bust of Arnold Schwarzenegger.
"Anything physical you're going to see in a movie, I create the digital model of that so they can do things to it with effects that they can't do physically," he says. "Like in Land of the Lost they had a dinosaur that was crushing a Hummer, and that car was a digital model I made. Then for Terminator: Salvation, they brought in a bust of Arnold from the 80's for me to scan, because they wanted to recreate a Terminator to look like how he did in the first movie. It's a great place to be because no two jobs are ever the same."
The level of detail found in these digital models has only gotten deeper over time, and 3D scans are now capable of capturing nuances as subtle as pores on human skin, and small imperfections in metal and glass surfaces. To record this, Fred uses a white light scanner that projects light onto an object with grid lines, and creates a polygon model based on the data collected from different points on the grid.
Some of his recent work can be seen in films like Twilight: New Moon, Alice in Wonderland, and the upcoming summer blockbuster, Iron Man 2. The latter of which not only allowed him early access to the story and characters for the Iron Man sequel, but also let him get his hands on a number of the iconic props from the series – a huge moment for someone who grew up on the comic books.
"I was such a fan when I was a kid, and working on Iron Man 2 was an amazing project for me," he says. "I made digital models of the power units for Tony Stark's chest, and the armor that Whiplash uses. I'm almost 40 years old, and I felt like I was a 12-year old kid getting a present on Christmas – just being able to play around with these props. I had the Iron Man power unit and sat there for a good 20 minutes just turning it on and off. How many people get to do that?"
As if Iron Man wasn't enough, Fred has followed up his work on the film with a number of other buzz-worthy projects, including Battle: Los Angeles, John Carter of Mars, and the third entry in the Twilight series – Twilight: Eclipse, where he created models of Robert Pattinson's arms and hands that were used for different effects shots.
"I put a lot of pressure on myself to do the best job I can, that's part of the reason people come back to me," he says. "For something like Twilight I worked four 20-hour days so they could move ahead with the rest of the effects shots. So I had the pressure of delivering on that kind of timeline, but also the pressure from the fans to do great work – because the Twilight fans are a different breed altogether. But it's never like going to work for me, it's something I just love doing every day. So many people are into these movies you're on, and it's such a big part of their life – you want to do your best job for them."
Contributing to these kinds of projects is why Fred got into the industry, and it's hard to think of a better fit for his talent than helping to take audiences even deeper into their favorite movies. As both an artist and a movie fan, the long hours he spends on films like Iron Man and Twilight aren't just about building his career, but also about pushing the boundaries of visual effects, and bringing even better films to the screen.
"It's an incredible feeling to sit in a movie theater with a crowd and be like 'I actually worked on this,'" he says. "I've been a big fan of this stuff way before I got into it, and always followed what ILM and Digital Domain did. So for me, I couldn't be more excited that I'm actually getting to do what I want to do. It's almost kind of stunning, especially when you've spent so many years trying to get to that place. I think the thing to remember is that you just never give up until you get it. As long as you keep working towards something that's important to you, you'll get there eventually."