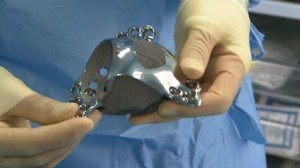 Another day passes, and again, 3D printing is making headlines for all the right reasons. The medical healthcare sector is buzzing right now with the improvements being made in patients' lives and healthcare services as a whole.
Today, we are going to look at another medical first, a 3D printed titanium replacement hip that has been customized to fit to a patient in the UK. The developed hip replacement was created with a specialized 3D printer.
The patient's name is Meryl Richards, and she was involved in a traffic accident over 37 years ago, in which her hip was crushed, causing years of pain and discomfort. She had already been through six previous hip surgeries.
In this case, the surgeons at Southampton General turned to three-dimensional printing in their efforts to create a replacement hip for their patient to reduce the need for another surgery. Meryl Richards is the first to undergo this type of procedure at Southampton General Hospital.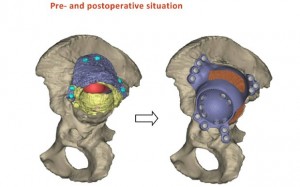 The surgeons used 3D printing in this pioneering surgery to design a bespoke hip replacement for Meryl. Initially, a CT scan was taken of Meryl's hip, and then from the scan it was possible to fashion a titanium hip through the process of 3D printing. The process involved printing multiple layers on top of each other until the titanium hip was fully completed and ready for use in the operation.
This procedure was not cheap and cost around £12,000 which is 10 times more expensive, than the cost to create a normal replacement hip. What's unique about this operation is that the surgeons took stem cells from Meryl before the operation took place. Stem cells were taken to allow bone growth that helps the fitting of the replacement hip to her joints.
The beauty of this story is the hip was made to the exact specifics of the patient's hip with 3D printing making it a perfect fit. Meryl Richard's life has been changed, and the years of pain and discomfort hopefully ending thanks to medical science and three-dimensional print technology.