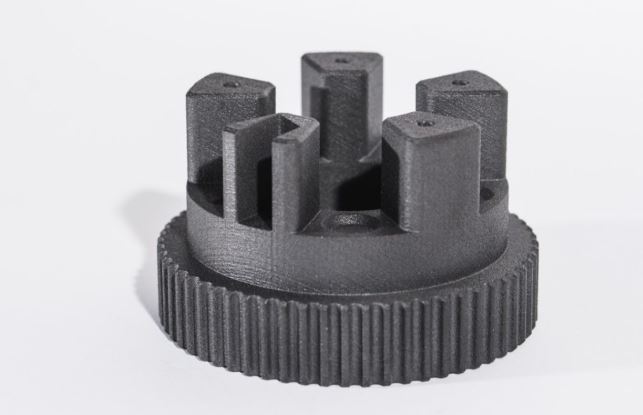 Design for 3D printing
This section will give you tips on how to correctly prepare your digital files for 3D printing. We will delve deeper in the best design practices and give you recomendations on what software to use. 
Here is a list of the best online model repositories to help you find existing designs.
How to get a printable model
All you need to start 3D printing is a model in the STL file format. Depending on your design skills and the time you want to invest, you can either design it yourself or download it from an online repository.
The STL file format
STL is the industry standard file format that all 3D printers use. They use triangles to represent the outer and inner surfaces of a solid 3D object.
Think of STLs files as the PDFs of 3D printing: they contain all the information needed to print a model, but they are not easy to edit.
Design for 3D printing
If you are already familiar (or willing to get your hands dirty) with 3D design, then it is easy to create a 3D printable model yourself. Just use your favorite CAD software and simply save your models in the STL file format (all modern CAD software packages can do this).
Below is a well structured list for the design rules for 3D printing.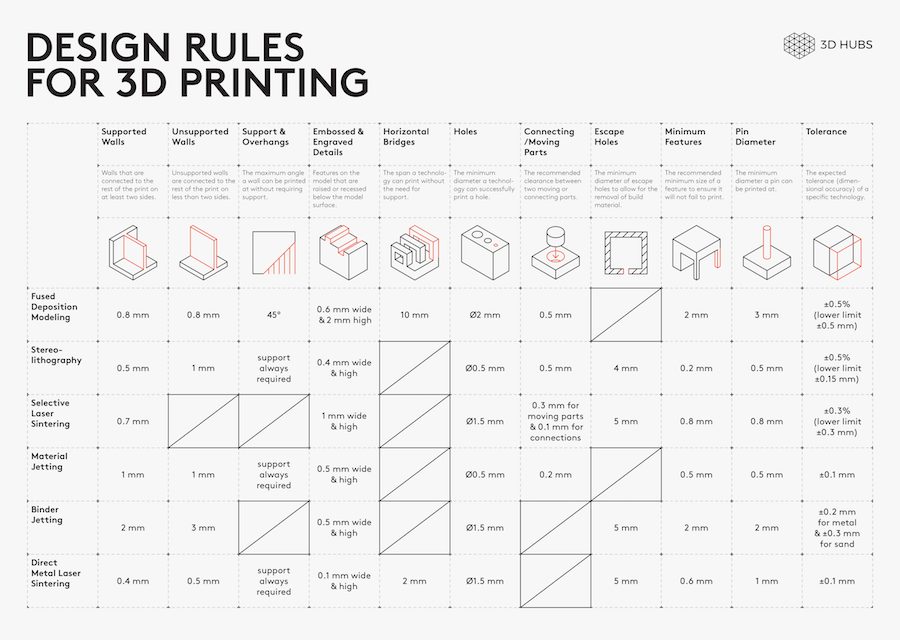 Here are the top 3 things to look out for:
Overhangs & support: 3D printers cannot deposit material on thin air. Walls at an angle greater than 45° will require support, affecting the surface quality.
Level of detail: The smallest feature a printer can create depends on the size of the end effector (nozzle or laser) it uses.
Layer height: The layer height affects the vertical resolution of a part. It's effects are visible are areas with greater curvature (it appears as stair-stepping).
What is the best software for 3D printing?
Different software packages can aid you in each different stage of the design process: from CAD design, to STL repair and preparation. In this section we list the best software for 3D printing to help you get started.
Here is a list of CAD software recommended for 3D design:
Solidworks
Rhinoceros
Fusion 360
Onshape
TinkerCAD
If you want to fix or modify your STL files
If you want to turn your STL files into G code use the following
Find a design online
If you are new to design (or if you are simply looking for something to print fast), then one of the many online repositories might already have what you are looking for.
Here are some websites we recommend:
Thingverse: The largest online repository with thousands of free 3D printable files for desktop 3D printing.

MyMiniFactory: 

A popular online repository with free 3D models that are tested for quality and are guaranteed to be 3D printable.
Cults: An online marketplace with high quality 3D printable models by professional designers, and curated collections connected to big-name brands.

Pinshape: 

An online marketplace with both free and premium 3D printable files, focusing mainly on hobbyists.

GrabCAD: 

An online repository of many 3D models that also includes some 3D printable files, focusing mainly on engineering professionals.
Want to Learn More About 3D Printing?
Original Source: https://www.hubs.com/guides/3d-printing/?_hsenc=p2ANqtz-8sTg5v7rEE00Ug37iC7Q9vbpQCBnilITrY7VvbvyPmgjX_N_eiV80I9LsnEGwdvMZl8NltHNji6zcbW5rN0wieeUbWBw&_hsmi=67184471