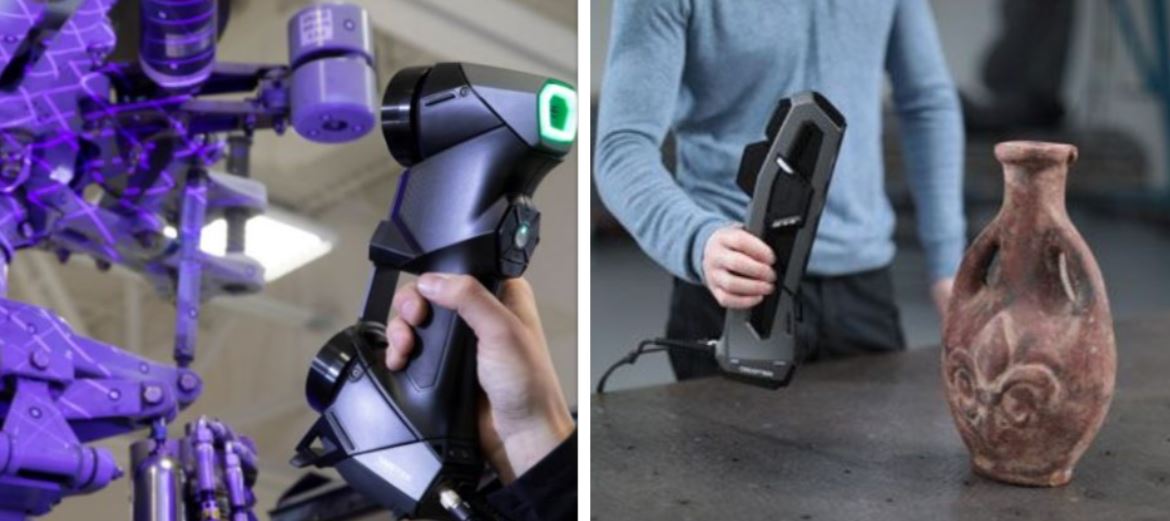 Creaform recently annonced that its recently launched HandySCAN BLACK and Go!SCAN SPARK hand held scanners have won two Red Dot Awards for Product Design.
The Red Dot Awards is a world-renowned, esteemed competition that welcomes the most innovative products developed from around the world  in a competition to determine which ones are the best in their respective categories. Every year, over 5,000 entries are received from more than 50 countries. The Red Dot Jury is made of 40 international experts who test, discuss and evaluate each entry live and on site. The contestants are judged on several criteria, including functionality, innovation, formal quality, and ergonomics.
The HandySCAN BLACK features blue laser 3D scanning technology and enables dimensional measurements for a wide variety of demanding metrology applications. The 3D scanner was designed to highlight its visible optical lense and PC board.
The statement by the Red Dot jury on the HandySCAN BLACK:
"The sleek design of the 3D handheld scanner skillfully reflects its high precision. Thanks to its matte-black background, the bold signature lines are clearly visible."
Go!SCAN SPARK, is creaform's white-light 3D scanner for product development applications. This scanner was also hailed for its design. The scanner integrates four cameras for a fast and easy 3D scanning and texture copying experience.
The following is the statement said by the Red Dot jury on the Go!SCAN SPARK:
"The clearly defined style elements of the Go!SCAN SPARK underscore its high quality. Easy handling makes scanning a pleasure."
Marco St-Pierre, the company's Vice-President, Innovation and Technologies explained:
"These are Creaform's fourth and fifth Red Dot Awards in the past few years, which attests to how much Creaform believes in the crucial role that design and ergonomics play in the overall user experience. With the HandySCAN BLACK and Go!SCAN SPARK, our industrial designer teams pushed the design language to a whole new level—with dramatic results. Not only do these new solutions offer unrivaled 3D scanning performance and accuracy, they also do so in frictionless ways that improve usability. We are immensely proud that the Red Dot Jury recognized this feat"
Want to Learn More About our 3D Scanning Services?
Want to Learn More About our 3D Scanners?