For those of you out there who own a 3D printer, you have more than likely downloaded a range of different objects to print. Some 3D printers are now easier to understand and use, but when it comes to 3D modeling it is not so easy. In fact, it's rather difficult unless you are familiar with 3D modeling. It's much easier to model an object made of pliable material like clay, as it can be re-shaped many times, in addition to it being easier to scan.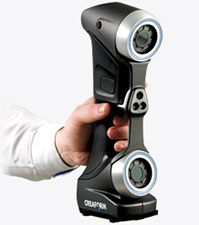 The beauty of owning a handheld scanner, like the HandySCAN 300 or the HandySCAN 700 is that they are highly efficient. The equipment can scan any object capturing the data points for modification and/or adaptation on any computer. Once the object has been modified to the user's satisfaction, it can then be printed using a connected 3D printer.
If you are searching for an efficient handheld scanner, then the HandySCAN range is something you should look into. These scanners are specifically created and optimized to meet the needs of engineers. They are one of the most trusted and reliable scanners available now with its ability to collect accurate 3D measurements of any physical object.
It's both portable and lightweight, and means you can transport the HandySCAN from job to job with ease. It delivers impeccable results and is a milestone in terms of 3D scanning advancements. If you require the best results for the job that you are undertaking, then you need to use the best equipment available to produce high standard results.
Creaform is known for producing high quality products and with the HandySCAN they have delivered again. If you are serious about 3D scanning and need professional results, then the HandyScan is the way forward for you.