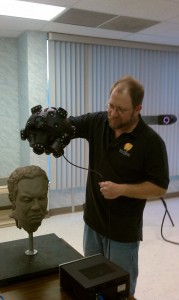 What's all the fuss concerning 3d scanning and 3d printing technology? Every day there is something new to report on it, it seems to be taking the technology world by storm. The entertainment industry has been using this technology to push the envelope, allowing the audience to experience the movie rather than just view it.
This technology is growing more popular by the minute. Part of that is because of the true-to-life result it produces and cost of service has been reduced. It is cheaper than ever have been.
Companies like, NeoMetrix Technologies, Inc. understands why this technology has seen such a rapid growth and part of that understanding comes from being experts in this industry providing professional 3d scanning and 3d printing services for over thirty years. NeoMetrix has been taking on all kinds of 3d printing and 3d scanning projects over the years producing successful, outstanding, high quality, well-finished products hundreds of times.
Offering a service where the client can ship the part to them direct for scanning or printing, or if the part is too big, the engineers at NeoMetrix will visit the client's place of work to ensure  the part needed is scanned correctly and professionally.
Every single day NeoMetrix Technologies, Inc. is helping other business, offering expert advice, and services to clients from around the globe, if interested review some of the case studies . If you have any questions regarding how 3d printing or scanning could improve your business, then make sure to contact them today.
The demand has never been higher for top quality products on our market which can be reverse engineered to client's needs. 3d printing and 3d scanning is the only technology which can help make this happen and also to a very high standard.
This type of technology has advanced at an incredible rate of pace and is affecting everything from education to help saving life's, what's exciting is that this is only the beginning  and there's far more to come, we wait on anticipation of what's next!