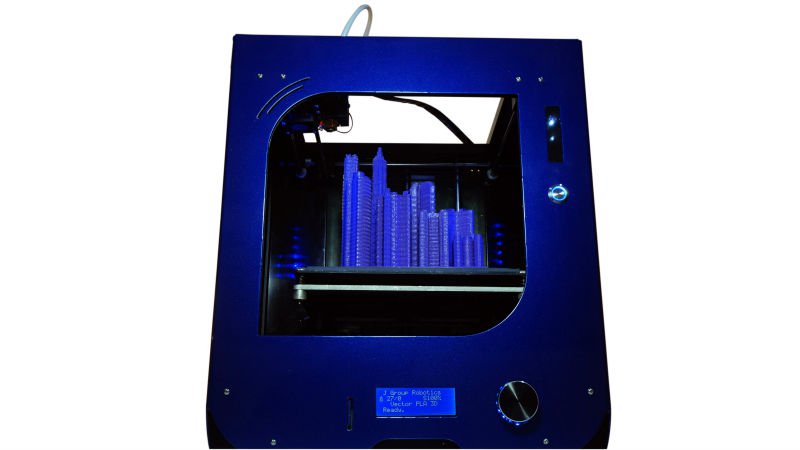 In the world of technology, there is rarely a day that goes by without something exciting taking place. This is down to the constant drive and attempts at making the technology available to us now more efficient and efforts to make it perform better. Now, as you can imagine there are countless breakthroughs being made every single day through multiple technologies and the advancements that they are making. It is when a technology has the ability to change the current standards that we are experiencing into something more beneficial that we begin to take notice of just how influential that it is and can quickly become.
One of the hottest technologies that is around today is 3D printing. This has become incredibly easy to use and affordable in terms with the prices asked. It is the 3D printer's ability to create a range of amazing products and items that has made it a favorite among the masses. The technology of 3D printing is picking up speed and having positive effects and a positive influence in both the business world and with consumers alike. However, even though the technology of 3D printing is widely covered in the media, it is still causing a little confusion. There are still many people in society and in the business world who do not yet fully understand what a 3D printer is and what it is that you exactly do with it or what you can build with it.

There has been a wide coverage of 3D printers and their ability to create most anything that the person using the printer can think of. This is how efficient 3D printers are. 3D printers are being used today to create human skin tissue, weapons, food, and many other things. This is a technology that has shaken the manufacturing industry to the foundations to which it was built on. Products can be designed and created at a fraction of the time and cost in comparison to traditional methods of manufacturing. 3D printers are being called upon in medicine and are being used around the world in different types of breakthrough treatments and surgical operations. The 3D printer has the ability to overreach the limits that have been set in the past and that are currently working in. Three dimensional printers not only have the ability to change one's life, but also has the power and capabilities to save the lives of those in need, where traditional methods have failed.
Basically, all you need to do is take the 3D printer out of the box and plug it into an outlet. A simple Wi-Fi connection can help the device correctly install the updates that it needs to get started. In some cases the printer comes and may not need any updates all that is needed is to fill the cartridges with the material that you are going to print with and then simply choose a pre-installed design to get started on your 3D printing journey. Using a 3D printer people have already printed off clothes and all sorts of gadgets and one company went the extra bit further and created a full size 3D printed house.
Three dimensional printing is a technology that is progressing and advancing constantly. With these advances, the technology only grows in stature and gains more numbers to its following each day. In the UK, magazine publisher Eaglemoss, has brought out a new collectible magazine in which consumers need to buy all editions. In the end, the consumer will have a fully constructed 3D printer. The magazine has seen success in the past from other collectibles that have been brought out in accordance with their publication.
Eaglemoss has really used their head on this idea as 3D printing is one of the hottest tech trends today. The first edition of the magazine is very inexpensive, to draw the consumer in. However, the magazine is published in 90 weekly installments and after the first installment all other ones are £6.99. That's quite a price hike and the magazine is produced for 89 weeks. After 90 weeks, one will have paid in total £627.11. This price is not bad when it comes to having your own 3D printer. The consumer needs to buy every edition to make sure that they have every part to make sure that the 3D printer functions properly.
People may be put off by the price, but 3D printing will not be used by all consumers. With this weekly magazine, one will get all the info that is needed in the simplest form to help everyone understand and come to grips with the hottest technology on the market. This is a great idea and has been endorsed by multi-award-winning designer Sebastian Conrad, who is the director of Sebastian Conran and Associates. These days, it seems every product needs a recognized face behind the brand and on the cover promoting whatever is being sold to help sales. What would be interesting to find out will be just how credible is this 90 part assembled 3D printer and does it do all that it says it can do and is it worth the money being paid for it?
These are big questions and the Vector 3 3D printer has a lot to live up to so let's take a look at this version of a 3D printer and see what it's all about.
It has an operating system capability that includes compatibility with – Macintosh and Windows. Good news on all fronts.
It has an incredible print resolution of 100 microns.
The Vector 3 has a cool layer resolution of 20 microns with a minimum error setting of 0.020000mm.
It has an easily accessible SD card slot for uploading any saved or desired printable images and data.
The Vector 3D printer uses Printware software.
The Vector 3D printer can print on many materials including wood, stone, and various plastics and glow in the dark materials.
The File types that are supported are as follows, .AMF/.DAE/ STL.
As 3D printers go, this is fairly efficient and can also carry out a multitude of different tasks and projects. The thing with 3D printing is that you need to know what you are doing and how to operate the printer to get the best results. What's great about the Vector 3D printer is that in this case the user does not have to go in blind and unfamiliar with its capabilities. The weekly edition of the magazine will inform and educate those who have taken the time to buy it.
3D printing is becoming more popular. Here is another example of how one man's knowledge of 3D printing used this technology to his advantage while being bed ridden in hospital. This heartwarming story is about a man named John Cousins who actually is the director of a UK-based 3D printing company. Remarkably, John was actually on business and was well under way in sharing the vision he had for 3D printers and their use in medical services and the wider NHS. During his speech and presentation, John suddenly became unwell and slumped to the floor. He was in real agony feeling excruciating pain.
On arrival at the local hospital, John was assessed and the results showed that he had kidney stones. He would need to be operated on to have them removed and ease the pain he was experiencing. Never missing an opportunity, John turned to 3D printing, in an attempt to help the nurses looking after him. John knew its capabilities and was able to create and print off a 3D model replica of his own kidney. The finished replica was an exact match to his own kidney and came with added scan data showing exactly where and what shape the kidney stone was. Thanks to John's quick thinking and the helpful aid of 3D printing, the nurses and doctors treating him were better able to understand and treat him in the best way. Thankfully, John came through the operation with success and is now well and on the mend. It is the versatility and the easy use that is making 3D printing more attractive to the masses.
As times move on, technology moves and advances with it. The thing is that you have the option to either move on with that technology or remain stuck in the past and limited to what you are able to do.