3D laser scanners are beginning to take over manufacturing quality assurance and quality control as they provide inspectors and analysts with powerful metrology tools. Used primarily in first article inspection, reverse engineering and in-process measurement, 3D laser scanners have become an integral part of a quality professional's tools. The high accuracy of the devices has revolutionized manufacturing, as seen in industries like aerospace and automotive.
A poll conducted on The Laser Scanning Forum asked scanner users to identify their top 3 most important features to consider when choosing a 3D scanners. Here are the results:
Categories & Types of 3D Laser Scanners
3D scanners can be separated into two separate categories based on how the capture data:
White-light and structured-light 3D scanners take single snapshots or scans of objects
Scan arms and portable handheld 3D scanners capture multiple images continuously
White-light & Structured Light 3D Scanners
3D scanners such as Creaform's MetraSCAN 3D are positioned with an external optical tracking device by using targets which bind the scanner to a confined area, allowing for it to position itself within a coordinate system. These types of 3D scanners provide phenomenal accuracy and precision while also allowing users freedom of movement with the device.
Structured-light scanners, like the Steinbichler Comet L3D, position themselves using numerous cameras via offline targeting or part geometry. Although multiple 3D scans may need to be conducted using this type of scanner in order to capture all the angles on complex parts, the resolution they provide often goes unmatched.
Scan Arms & Portable 3D Scanners
Looking into the second general categories, scan arms, such as the EvixScan Robot are positioned by arm itself as they are equipped with mechanical encoders. The main advantage of scan arms is that both 3D scanners and touch probes – like the HandyPROBE – are compatible with them, providing a universal instrument for both applications.
Turning to the last category, handheld/portable 3D scanners, such as Creaform's HandySCAN 3D, are positioned using real-time self-positioning with targets, the geometry or the object, or a combination of the two which is commonly referred to as 'hybrid positioning.' In this method of positioning, two cameras on the scanner create a stereoscopic vision which allows the scanner itself to to determine its position in relation to specific points on an object that are highlighted by positioning targets.
With portable scanners, the ease or transportation and use is incredible, and the devices can essentially be used anytime, anywhere. Scanners like the HandySCAN are also capable of acquiring hundreds of thousands of points per second and are actually able to rebuild the triangle mesh while the scanning process is underway.
Summary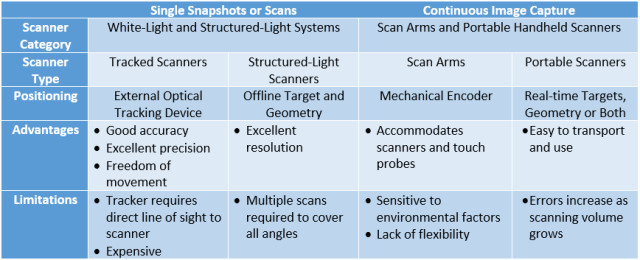 Advantages
Measurement Coverage
Measuring Speed
Automation
Required Training
Cost
Industries
Aerospace
Architecture
Art & Historical Preservation
Automotive
Consumer Products
Education
Jewelry
Manufacturing
Marine/Boating
Medical/Health Care
Military & Defense
Want More Info on 3D Scanners?