From Concept to Functional Parts
When 3D printing large parts for conceptual models and functional test at an affordable price, PLA has become the standard material used to produce quality results. PLA has become the most common material in these applications for Fused Deposition Modeling (FDM) 3D printing systems due to its affordable entry point and ease of use. However, when temperature – and impact – resistance comes into play for large functional parts, PLA doesn't quite meet the property specifications to produce them. ABS instead has become the industry standard for many closed platform printers, until now…
BigRep 3D Printing offers users an incredible new material at $65.10/kg – High-Performance PRO HT (High-Temperature) filament. Suitable for open 3D printing machines, PRO HT also offers users a wide range of advantages over ABS, making it an adequate candidate for closed-platform machines as well.
BigRep PRO HT
3D printers featuring open – or unheated – build chambers, are extremely limited due to their low printing temperatures when it comes to the production of heat-resistant prints. BigRep has developed the PRO HT filament to address this issue and help users produce large objects and parts with better mechanical properties for functional testing on these machines. Composed entirely of renewable and naturally pure raw materials, PRO HT is CO2 neutral, bio-degradable and "exhibits excellent adhesion to the print bed."
Key Points of BigRep PRO HT
Extrudes very well between 383°F and 401°F
Has very low "warping effect"
Withstands temperatures of up to 239°F
Is compatible with BigRep's Power Extruder with 0.6, 1 and 2 mm nozzles
Produces no smell issues during extrusion
Price from $65.10/kg
BigRep PRO HT vs. ABS
Although considered as an ABS alternative, BigRep PRO HT and ABS do have their differences:
PRO HT is a Biopolymer and ABS is an oil-based plastic, meaning PRO HT is both more environmentally sustainable and friendly.
PRO HT and ABS do share similar characteristics in strength – both tensile and flexural – however, PRO HT provides much stronger impact strength
PRO HT parts can withstand 59°F higher temperature than ABS parts
In terms of surface quality, PRO HT has a matte finish and ABS has a glossy finish, meaning PRO HT has an increasingly valued property in the additive manufacturing industry compared to that of ABS
An overall summary of these differences:
In open platform 3D printers, ABS is unusable, whereas PRO HT is and serves as an excellent alternative for users seeking ABS-like parts.
In closed platform 3D printers, PRO HT provides better impact strength and environmental credentials, greater temperature resistance, and a matte finish will make it more desirable for many applications.
Key Characteristics of BigRep PRO HT, BigRep PLA and ABS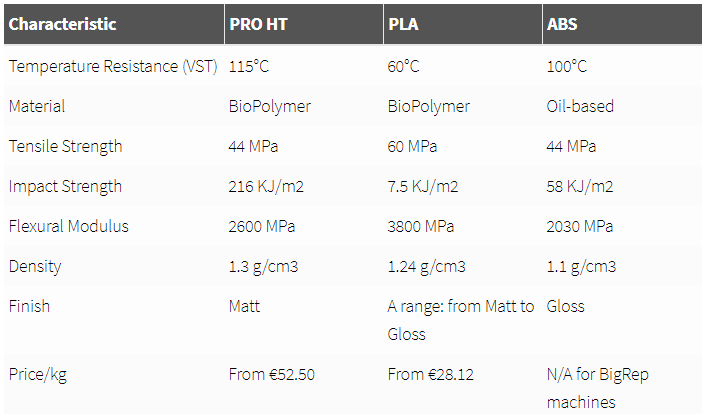 Summary
BigRep PRO HT filament provides users the ideal solution for printing large parts on open platform machines in terms of both cost nd high performance characteristics. In addition to this, BigRep PRO HT can often serve as the perfect material for carrying out similar tasks on closed platform machines. Gil Lavi, a Senior 3D Printing Specialist at BigRep with over 22 years of industry experience, explains "It has great environmental features, a great matte finish available in several colorways, and is easy to print with on the BigRep ONE and BigRep STUDIO 3D printers, as well as many others." In other words, go Big(Rep), or go home.
Want to Learn More About 3D Printers?