Problems in Manufacturing
For the past hundred years, mankind has become very good at manufacturing parts at scale.The first industrial revolutions managed to increase productivity by a great volume . The second industrial revolution introduced steam power, then the concept of a lean assembly line, and finally the third revolution brought computational power and automation. Currently, we are in the fourth industrial revolution where digital manufacturing is again unlocking the power of leverage, allowing even more manufacturing capacity. But there is a problem: producing low volumes of parts, especially with a high variability, still remains a challenge. The limiting factor is once again a single human who is needed to set up, fixture, program, and run specialty parts. All of the industrial advancements up to this point have been unable to provide the same leverage in one-off scenarios.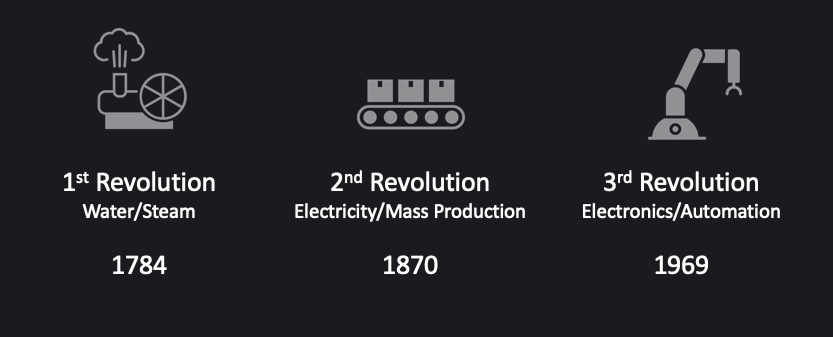 How to Solve it
Introducing functional 3D printing from Markforged. The introduction of the ADAM metal 3D printing process has solved the problem that for years manufacturers have tried to figure out : how do I efficiently produce single parts? The production of low-volume, high-mix parts is perfectly suited for a metal 3D printing technology because all of the difficulties that come with  conventional manufacturing (set up, fixturing, programming, etc.) are largely eliminated. Now, a complex manufacturing schedule for a fleet of printers spanning many locations can be managed remotely via a cloud-based software solution. We are entering the new era of distributed manufacturing with 3D printing. 
The ADAM metal 3D printer by Markforged, represents a breakthrough technology advancement that lowers the barrier of entry by a factor of 10 compared to other metal printing technologies. This means that the equipment cost is less, facility requirements are less, and the parts produced with this technology are less as well. With materials like 17-4 PH Stainless Steel, A2 Tool Steel, H13 Tool Steel, and soon Inconel 625 and Titanium 6Al-4V, it's easy to see why this technology is changing the industry. Manufacturing companies are now looking toward metal additive technologies to supplement tooling, fixturing, functional prototyping, and low-volume part production. Producing one-off metal parts has never been easier.
How it Works 
The ADAM metal printing process from Markforged is built upon a foundation of 50 years of metal injection molding (MiM) practices. Instead of using a mold the ADAM process instead uses a 3D printer to achieve the initial green-state geometry. This is accomplished by an FFF (Fused Filament Fabrication) or extrusion-style printing method using a specialty filament composed of metal particles and two binding agents. Once the part is printed, it is placed into a solvent wash where a portion of the binding agent is removed passively. This washing step is a batch process, so multiple parts can be processed at once. After the part is fully washed it's placed into the furnace. This furnace will run through an automation cycle and ramps the temperature up to burn out the remaining binding agent and then fully merge the metal particles together. The furnace is also a batch process, so multiple parts (of the same metallurgy) can be run at once. The finish result is a ready to use metal part. However, not all parts are candidates for the ADAM metal 3D printing process since with any tool there are certain size restrictions. 
But the introduction of discretized metal 3D printing is allowing companies to solve the age-old problem of economical high-mix, low-volume part production, and changing the manufacturing industry. The ADAM metal 3D printing process from Markforged is the lowest cost and easiest to use metal printing technology on the market to address this need. The comprehensive offering from Markforged — brings customers the solution to solve a wide range or problems which previously seemed impossiable.