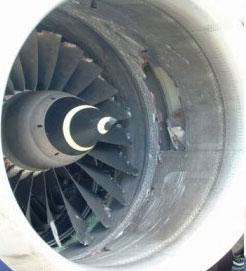 What the Industry Needs
Reactors and turbines are costly, essential pieces of equipment that usually have to undergo regular maintenance. The high cost of such equipment justifies repairs at times complex for problems such as deterioration. To determine the repairs required, warping or loss of material due to wear is to be precisely measured. Then, repairs can be checked for compliance.
Advantages of the MetraSCAN 3D Solution
As a fully portable device, the MetraSCAN 3D solution is perfect for this type of operation. The portability and dynamic referencingfeature of the MetraSCAN 3D allows simple, reliable operations anywhere, even in restrictive conditions like on an airport landing strip. In addition, other maintenance operations can be done on the very same airplane at the same time. Movements or vibrations do not interfere with the MetraSCAN 3D and its dynamic referencing function.
By using a scanner together with a probe, geometric elements and freeforms can be controlled with pinpoint accuracy. Detailed 3D mapping can be generated to obtain the accurate dimensional characteristics of a damaged part.
For larger parts, the volume extension functions of the MetraSCAN 3D prove to be particularly useful.
The MetraSCAN 3D helps to save a significant amount of time by allowing:
On-site inspection – parts no longer have to be disassembled and transported;
More reliable streamlined alignment procedures through dynamic alignment.
Because it provides a great degree of freedom when measuring and because it even scans most reflective surfaces, this optical CMM machine can be used on any type of parts or materials such as sheet metal, plastics or composite materials.
Want to Learn More About 3D Scanning?