SCOTT Sports was founded in Idaho in the north-westerns USA, in 1958. At first, the company began with the distribution of ski poles, followed by goggles, then the company starting moving into biking. 
In 1998 the company moved to Givisiez which is a town near Fribourg, Swtizerland and from there the product line expanded on. SCOTT Sports develops and produces head to toe gear for skiing, biking, snowmobile, motorcrossing and trail running.  All of these objects must be suitable for activities that are performed outside, and keep the user safe while providing suitable enjoyment of the activity performed.
Chief Engineer, Bertrand Didier first saw the demo of Creaform products at an industry show. Bertrand was astonished by the technology since it seemed so simple to use while being accurate at the first time. SCOTT Sports was not sure if the engineering division needed a 3D scanner but after some thought the company decided to make a minimal investment by purchasing a mini 3D scanner. After some time it was clear that the company could definitely use a 3D scanning technology. Finally, while doing some research Bentrand stumbled into the HandySCAN from Creaform, and ended up being impressed by it, so the purchased was done. 
Bertrand comfirmed that the HandySCAN brought the company a competitive edge. The whole team uses the 3D scanner, Bertrand states 
"We like that it's right there, so easy to take out of its box to operate. Its availability means we never have to hesitate to measure something, even to obtain a reference or make measurement comparisons"
Bertrand confirmed that the HandySCAN was helpful when creating the Symbol 2 ski helmet 
"useful for the flexibility and speed it brought us in the design phase, the comparison between different versions, as well as the product control at the end of the development lifecycle. All of this led us to deliver a great product on time, with the shape and fit that everybody expected."
Bertrand estimates that using the HandySCAN 3D saved SCOTT Sports "at least a few weeks" of trial and errors, including the designers and engineers' salaries as well as a few prototypes (which generally cost between 700 and 1,000 euros each).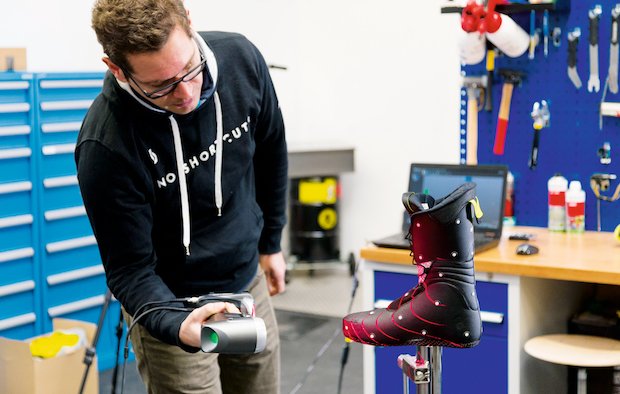 A helmet is a very complex object, the helmet would have not being able to be scanned without using 3D scanning technology . This type of product needs to provide safety and comfort issues such as pressure points. Thankfully, the HandySCAN was able to accomplish both things while saving money  for the company.  Finally, besides using the HandySCAN for development process, SCOTT Sports use their Creaform 3D scanner for reverse engineering, dimensional control and to obtain renderings of all their products to keep on file and to provide 3D models to the manufactures they work with.  
3D scanning and 3D printing have opened up new possibilities for the dynamic company. Armed with an extensive industry knowledge — very few companies offer such a broad product line, which enables them to easily transfer knowledge and features from one sport or one equipment piece to another — Didier and his team want to continue improving the products and constantly make them safer, more comfortable, more versed in aerodynamics, etc. SCOTT Sports is a company that now relies on 3D scanning and it has improved their development.
Want to Learn More About 3D Scanning?
Original Source: https://www.tctmagazine.com/metrology-3d-scanning-imagine-inspection-news/no-shortcuts-3d-scanning-sports-gear/