In manufacturing, there are many critical steps, one of the most vital steps in prototyping. The reason prototypes are vital is that they are used in proving the concept and design are correct and help validate the research. Accurate prototyping will also draw investors, and help them visualize, and encourages them to buy the new product innovations.
In the process of developing innovations, the product model needs to accurately replicate the shape of the prototype; this is accomplished by using 3d CAD software. The most effective way of capturing the objects physical shape and measurements and presenting them digitally is by using a laser scanner.
In the past, the traditional methods that involved using callipers and coordinate measuring technology in order to capture a few points, however, a laser scanner has the ability to capture the needed data in a point cloud and truly represent the exact specific measurements of the object that is being scanned.
A 3D Scanner can captures the entire surface of any object placed in front of it accurately, and represents the data collected in a "point cloud" which can easily contain many, up to millions, of points. This data is collated, reformed into CAD rendering graphic that is used for analyzing, editing, or sent to CAM for reproduction purposes.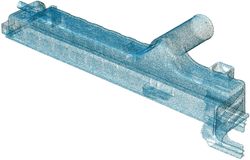 By using specific and specialized 3d scanning software the point cloud allows the creator to compare it to previous models. This gives the ability to optimize the design and manufacturing of the object.
The benefits of using 3d scanning software means that new creations can be compared to older modes allowing exact match on specific parts or allowing upgrades on old parts to carry out their job more efficiently.
The use of 3d scanning has exploded in recent years and is simply because it of the proficiency and workability that comes from its use. The most recent trends have shown it is and always will be integral to the manufacturing world of perfecting product design sold on the marketplace.