3d printing technology is the buzz in the tech world. The years of being unnoticed have finally come to an end with it now being an integral part of our daily lives. The technology has the ability to turn digital files into tangible products. Its benefits include transforming the user into a creative, skilled artist from being a passive consumer.
As this technology has risen to success in society, just how will it stand in terms of being introduced into education today?
There has been some mention of schools looking to take this cutting edge technology on but it is still in its early stages of how it would be implemented into curriculum in today's society. It is true to say that the use of 3d printers could revolutionize the current state of education by only adding to it.
Yes, schools are still in the early stage of adoption of this innovative technology but the exciting thing is what is to come. Below are several 3d printing features that can revolutionize education.
Three-dimensional printing could revolutionize art and science classes with the ability to create visual aids that can be used in classroom studies. Having the 3d visual aids can help students understand concepts that were difficult to understand through older textbook drawings.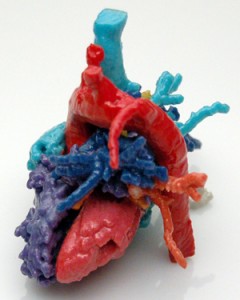 Imagine the attention you would have by presenting a replica heart and all its working attributes via a three-dimensional model in your science class. This would allow students to get up close and even touch the model. This has far more beneficial results to just looking at detailed drawings of the heart. The use of 3d technology is not to take way from education but to work along with what's already in place adding to the quality of overall education.
Classes become more interactive and project studies become more hands on. The result of this is that the learning process becomes more enhanced and captures the student's attention for longer periods of time.
These are a few attributes that 3d printing technology possesses. The technology is in its early stages but is becoming more important in our daily lives. This technology is ground-breaking and needs to be embraced and its services need to be used in order to improve our quality of life and education.
Given these attributes, 3d printing seems to hold promising and ground-breaking innovation that will aid in the fulfilment of a productive, educational experience.