Three-dimensional printing is no longer a futuristic idea; it is here right now and is rapidly moving into the mainstream. Its swift progression to the forefront of innovative technology has finally taken place, with more and more new ground-breaking headlines and news emerging every day. The thing that is so interesting about this technology is it seems to have very little limits in terms of what it can do and achieve.
The 3d Printing industry was solely used by engineers and scientists when it was first created decades ago. Now we are in a period where we have advanced as a society and the fact that our own consumer needs are far more advanced means this type of technology is being used in many different applications. Collectively, brands that are more global are looking at new inventive ways they can implement and use 3d technology in their own business and marketing campaigns.
Recent trials by Coca-Cola in Israel have used 3d printing to their advantage boosting the brand image and connecting with their customer base through direct marketing projects. In the UK, grocery giants, such as, ASDA are trialing 3d printing by allowing customers to scan themselves, thus creating mini customized figurines in various sizes.
The next giant to use 3d printing is none other than the Global Brand Disney. The researchers at Disney are now offering quite a neat 3d printing project opportunity. They let individuals be replicated into miniature Star Wars storm troopers.  The figures are highly detailed and posed in a way that they are holding their helmets at waist length so the figurines unique face can be seen.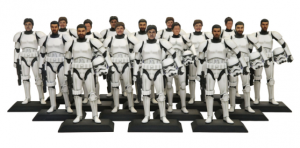 This is just another example of one of many well-functioning organizations and businesses around the world looking at improving their brand and involving a personalized way for customers to interact with their brand and this technology.  If this is what technology is allowing us to print now, then the future has no limits to what we will be able to design.