You would have to be a recluse or live on another planet to not hear news regarding 3d technology. It seems to be all that everyone is talking about at the moment. You may be wondering just how this type of technology benefits you as an individual and how it adds to your lifestyle.
The technology in and of itself has been around for quite a few years, mostly companies with a fair amount of financial muscle behind them could ever afford to use the services. The majority of 3d printing or scanning projects for small industrial companies were outsourced as it was unaffordable to bring this type of technology in-house.
It was unaffordable in many ways, the equipment was exceedingly high in cost along with the cost of materials, not to mention the fact that the company would have to hire experienced operators or train existing staff increasing overhead costs. It was easier and more cost effective to outsource the work.
However, due to the rise and demand for digital services, manufacturers of digital scanners and printers like Stratasys  have had to lower prices and design smaller printers that allow more companies and single users to benefit from the use of its products.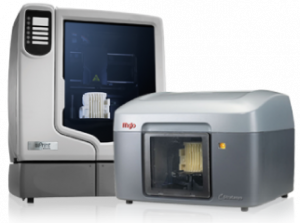 The option to by this technology is now a reality for smaller businesses and individuals, but there are still companies who trust and rely on outsourcing to professional rapid prototyping and 3d printing service companies.
Fresh headlines are breaking every day regarding something unique made by this technology enriching the lives of others to the downright bizarre and odd creations. It seems that the creative and intelligent amongst us can finally get their hands on a way to bring their ideas and concepts to life.
In a world where technology helps shape the future, you can't help but wonder how different it will be from the present to what it will develop into over the next 5 to 10 years?