It has been beautiful to follow the evolution of 3D printing. Some might pinpoint its rapid growth rate to the many new varieties of applications available to its users. This quick progression and developments has made it its own field.
Three-dimensional printing can easily take on and complete countless purposes. Some of these include customized prosthetic limbs, creating life-saving devices, and improvement in education.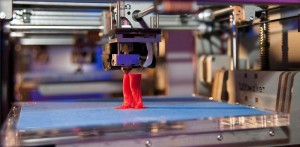 The technology of 3D printing has single-handedly revolutionized manufacturing, no arguments about it. It cuts down, production times, production costs, and creates products of higher quality.
The evolution of 3D printers has led to more affordable prices available on the market. Lower prices mean that it's now easier for more of us to get our hands on a desktop 3D printer. It gives the user the freedom to print what they want, when they want it. It is clear to see 3D printers are making an impressive mark, even though some contentious issues surround this technology.
We do not have the ability to predict the future of 3D printing. What we can look at is its current progress to know where it might be headed. Its rise in popularity continues to determine the route it's likely to take.
One thing is certain, 3D print technology is not going away it's here to stay. The other thing we can be certain of is that 3D printing will have a huge impact in the way that our future is shaped. It will also influence the way companies and industries manufacture goods.
If we believe 3D printing, and its capabilities are advanced today, then we can only speculate what the future holds for this technology powerhouse.
Stay up-to-date on the latest 3D Scanning and 3D Printing industry news by connecting with us on Google+.