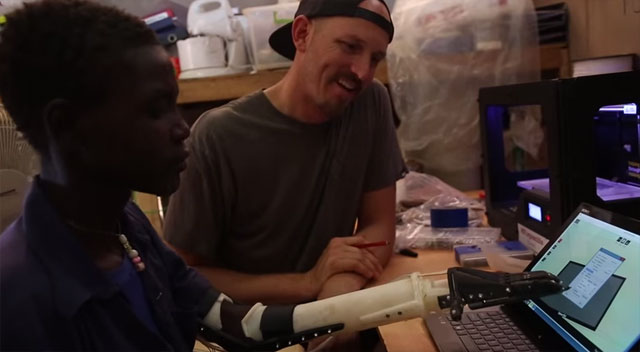 You do not have to look far to realize the impact that 3D printing is having on the world and society as a whole. At the moment, 3D printers are the coolest pieces of technology around, not only are they efficient, but the technology is providing real solutions to problems many of us face each day.
Sudan one of the largest countries in Africa is ravaged by civil and political wars. A young man, named Daniel Omar knows the reality of these wars too well. Daniel unfortunately lost both his arms two years ago in a military airstrike ordered into action by the Sudanese government.
Daniel's life was dramatically altered, as you can imagine, and he was now looking to spend the remainder of his life severely injured. Disabled, without the use of his arms, Daniel's future looked bleak and there looked like there was little hope to regaining the function of his arms.
Thanks to Not Impossible Labs, this not-for-profit organization worked alongside Daniel to create customized, fully functioning prosthetic arms using 3D printing technology. Not Impossible Labs founders are passionate about creating low-cost solutions for the many who are victims of war. They work with those who suffered from amputations and provide them with a new lease on life.
Mick Ebeling of Not Impossible Labs met with Daniel at a refugee camp that had a population of well over 70,000 people. Mick met Daniel when he was 16 years of age and observed and worked with him for two days to get the exact measurements so that the 3D printed prosthetic would be a comfortable, yet customized to fit, and still be able to carry out the jobs required.
Only two years ago, Daniel's life was severely restricted, simple routine tasks were made impossible without the help of another. With his new 3D printed prosthetic, Daniel is able to complete the simple tasks again, plus feed himself. 3D printing has given Daniel his independence and freedom back that was ruthlessly taken from him through a savage and needless act of war.
In Daniel's case war was nearly the end of him, it took his freedom and his human right to have fully functioning limbs. Not Impossible Labs founders have taken 3D printing and made it a working solution for Sudan's war victims, offering hope, and giving many a new lease on life.
Watch the Story of Daniel: