A few years ago, 3d printers were considered a novelty with only the specialized being trained in how to operate them. Today, however, the scanning technology has become very prominent, and not just in the manufacturing area of business. The way it works, it actually produces real physical objects, and is used as a cool marketing tool for various global brands.
Companies are looking at using solid object printing in ways that are cutting edge and dynamic, making their brand unique, fun, and useful. One of the more recent brand examples is Coca Cola, they have used the printing technology in a contest that would create "miniatures" models of the individual consumer in a recent contest.
Coca-Cola
The brand Coca Cola was looking to introduce its mini bottle variety into the consumer market in Israel. The global brand invited the consumers to come and create a tiny detailed digital version of them in an adapted mobile app. The mini version that was created on the app was then tended to carefully Tamagotchi Style. For those who tended to their "mini-me" the best, were selected, and won a trip to the Coca Cola factory. They were invited to turn the mini model of themselves into the real thing via the use of 3d printing technology.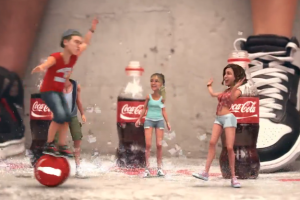 eBay.com
eBay.com is another company that has evolved dramatically over the years, where consumers can find almost everything that they are looking to buy. From items like playing cards, to full-size fishing boats, and now they have added a three-dimensional printing section. There is no limit to resources for the consumer on eBay. The company recently created and launched its iOS app, eBay Exact, which offers access to 3d printers in order to purchase custom objects from companies like MakerBot, Sculpteo and Hot Pop Factory.