v:* {behavior:url(#default#VML);}
o:* {behavior:url(#default#VML);}
w:* {behavior:url(#default#VML);}
.shape {behavior:url(#default#VML);}
Normal
0
false
false
false
false
EN-GB
X-NONE
X-NONE
/* Style Definitions */
table.MsoNormalTable
{mso-style-name:"Table Normal";
mso-tstyle-rowband-size:0;
mso-tstyle-colband-size:0;
mso-style-noshow:yes;
mso-style-priority:99;
mso-style-parent:"";
mso-padding-alt:0cm 5.4pt 0cm 5.4pt;
mso-para-margin-top:0cm;
mso-para-margin-right:0cm;
mso-para-margin-bottom:10.0pt;
mso-para-margin-left:0cm;
line-height:115%;
mso-pagination:widow-orphan;
font-size:11.0pt;
font-family:"Calibri","sans-serif";
mso-ascii-font-family:Calibri;
mso-ascii-theme-font:minor-latin;
mso-hansi-font-family:Calibri;
mso-hansi-theme-font:minor-latin;
mso-fareast-language:EN-US;}
Any parent knows their child, and instinctively understands when things aren't right with that child's health. This was proven with a 6-week-old baby boy, Kaiba, who suffered from a rare breathing disease, unknown to his parents. One night he stopped breathing and turned a shade of blue, at that point his parents were scared and willing to try whatever they could to keep their son alive.
His parents monitored him at the hospital, along with the doctors, over the next few days where the issue showed no signs of improving. The parents sought medical advice, and discovered that Kaiba was suffering from a medical condition called tracheobronchomalacia.
This condition consists of a blockage, which affects respiration. The only way forward would be for an operation to insert a splint to keep the air passage open allowing new tissue to grow and heal.
At this point, the FDA had not approved any form of 3D printed components for use in association with surgical insertion, in the human body. However, this was a special case where time was of the essence, and radical action needed to be taken, the FDA allowed it.
Kaiba was imaged to ensure accurate details of his lungs were captured. These precise details were used in creating a computer graphic to design the splint to fit. The file was then sent to a 3d printer and crafted into the lifesaving splint below.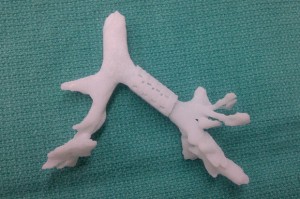 Image Source: USNews.com
The component above was made with a biodegradable material called Polycarprolactone. The reason this material was used is that it easily breaks-down naturally over the years, meaning no further surgery for the young child. Nearly 2 years after the surgery the child is breathing on its own and doing well.
With successful outcomes as with this case, it shows that 3D printing services has a lot to offer and it will only be a matter of time before we see it being used in more and more in medical emergencies like this one.
Watch the video of Kaiba and his Family