As the Christmas period is well under way, there is a new unique gift option on the market to opt for this year for your loved ones.  Perhaps your grandma or granddad wouldn't really appreciate and fully understand the pull of using a 3d printer, but there are younger members of the family (perhaps, you) who would know all about its possibilities.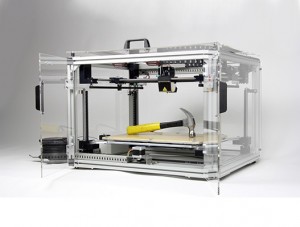 Every now and again, a technology comes along taking up the spotlight for a certain amount of time before the next "new thing," takes its place. Until that time, 3D printing is where it's at. Truth is though; nothing seems to be out pacing the advancements that this printing technology is making. It is easily the most popular technology around—to date—taking long strides at the front of the technology race.
Each day, more and more reports are issued of just how amazing three-dimensional printing technology has become. These new reports discuss the various applications and industries benefiting from its services. Anything from custom designed projects like jewelry making , food, and  the rebuilding and saving of many people's lives around the globe are just a few of the many ways in which 3d printing has been making an impact.
With more and more shops now selling three-dimensional printers, it has shown that trends are correct in reporting an increase in demand and is at an all-time high. With this equipment at affordable prices, it has meant you can seriously think about buying one. Maybe, even print cookies or a Turkey for Christmas dinner. (Read about 3D printed food, here).
With a multitude of materials readily available to use and with more and more companies making there blue prints for products available to download online, it is certainly looking like you might be printing what you want, instead waiting for an item to be shipped in the mail. The digital marketing era is here whether you like it or not. Read more on this technology, embrace it, and exploit its endless possibilities.