Everyone has had a fondness for candy; a sweet tooth they indulge many times over. Whether young or old, there's something about one's favorite candy that draws a person back looking for more.
You can't help but get caught up in a daze of colors and oh-so-sweet tastes, especially when peering through the candy store window. It sets your mouth watering, all the different treats you will have on your taste buds.
The exciting news is that the creation of candy is evolving with a little help from 3D printing. The company 3D Systems has manufactured 3D printers called the ChefJet and the ChefJet Pro.
The job of the printer is simple, print off tasty, edible candy. The product ChefJet has passed the prototype stage, and consumers can already purchase 3D printed candy in California.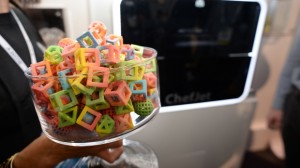 The ChefJet has the ability to print candy and desserts in a variety of shapes and colors. It's obvious to see why these printers are revolutionary with the shapes and designs that can be printed as seen in the picture.
The manufacturers of the ChefJet Pro  state that these 3D food printers can easily print and create edible chocolate, candy, and cake toppers. This has taken the production and manufacturing of candy to a whole new level.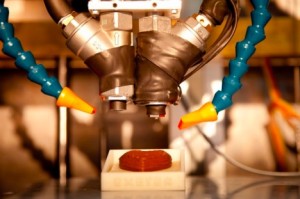 The release of these printers is not expected until later in the year; however, the price range on the equipment is suited for professional kitchen companies and not for the home kitchen. Anyone wanting to create and print their own candy will have to wait for now.  Candy has reached the next level, and in a few months you may be buying and eating sweets as unique as you are.
For more interesting 3D printing and 3D scanning news visit our blogs, or connect us with us via our G+ Company Page.