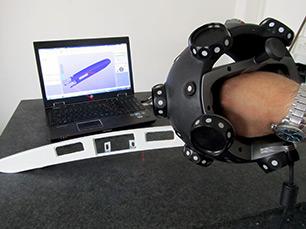 REHAU is a leading service provider of polymer based solutions  for the industrial, construction and automotive sectors. Hence, REHAU is heavily dependent in effective and advanced measurement technologies.
REHAU recently acquired a new measurement system which would have to be used in both fixed and variable positions for limited series and prototype measurement as well as component measurement. Another requirement REHAU desires is for the measurement system had to be flexible and mobile since the scanning had to be done in different places at the facility and in different environments without the accuracy being affected.
REHAU found a solution in the MetraSCAN 3D scanner from Creaform. The MetraSCAN 3D provides the best price/performance ratio for the company's specified applications as well as extremely high flexibility and mobility.
Plastic manufacturers make use of manufacturing processes such as injection molding, extrusion and the like must come to terms with physical phenomena such as shrinkage and spring back effects which becomes difficult to achieve in CAD geometry.
3D scan results offer sufficient indication of this during the repetitive tool design process. 3D scanning also helps avoid design steps that are often repetitive and unnecessary. Furthermore, 3D scanning represents a great solution for reverse engineering of original tools.
The MetraSCAN 3D is a poweful 3D scanner that works with the C-Track optical camera along with the HandyPROBE. This combination has no restricted freedom of movement, and its measurement volume can be expanded quickly without loss of precision by moving the C-Track.
REHAU has had good experience using the MetraSCAN 3D, the HandyPROBE and a C-Track 780 for process engineering in injection molding, painting and assembly technology as well as probing and contact free measurement of prototype components and series measurement.
Want to Learn More About 3D scanning?
Original Source: https://www.azom.com/article.aspx?ArticleID=11468