The technology of 3d scanning and printing has finally gained the momentum needed to come out from the labs and basements from where it has seen most of its use, and is now being used and embraced by the world.
Hobbyists and general members of the public can now easily get their hands on their own pieces of 3d scanning and printing equipment at reasonable prices.
This newly released technology has allowed the creative and imaginative amongst society to let ideas to run wild and in the process actually bring them to life through 3d printing and 3d scanning technology. With the ability to capture fine details, as well as, how it allows room for reverse engineering on all projects, makes creations as unique as the individual creating the final design.
There is a glowing buzz regarding the many new products and ideas successfully created by laser scanning. Every single day new inspiring stories are reported. Stories with ingenious creations and ideas as the central theme, such as, "Rescued Dog get 3D Printed Paws" or "How 3D Scanning Brought 'BioShock Infinite' to Life."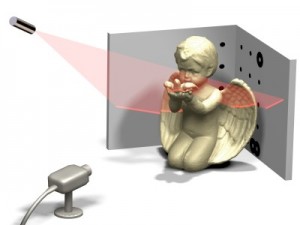 Anyone can easily get their hands on a professional 3d scanner and digitizer for around $1400 and can pay upwards of several thousand dollars for the more advanced options. This has made it more achievable and allowed more individuals to take it on board and get to grips with using this technology in their own homes.
As society evolves, needs develop and those needs include the demand for higher quality technology services and gadgets. Laser scanners have stepped into the mainstream and it is going to be for quite some time. It is an exciting time and many look forward to the unknown and how these technologies are forging new ways for people to live and the way they work.
It's right to believe the hype and buzz surrounding 3d technology, as it looks now, a future where 3d printers and/or scanners are found in the majority of households is not so far off.